Brandon's Story "Bullies Who Kill"
Brandon Chris Swartwood
February 21, 1982 – December 16, 2000

One night, as Brandon stood by me, he said, "I feel dead inside." On a cold
December morning only three weeks later, I was standing by Brandon's dead
body, knowing, that despite all my efforts to save my beloved son, the bullies'
job had been done too well.
Corinne's Story
"Just Go Home and Kill Yourself"
Corinne Wilson
September 30, 1991 – October 6, 2004

The bullying came to a head on Oct. 6, 2004.  …one of the girls slapped her
and called her a "whore." They said they wished she were dead and that she
should "go home and kill herself."  The day my husband and I should have been
listening to our daughter perform at the rodeo…we buried her instead.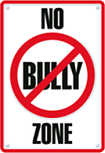 The effect of bullying if left unattended to can be life threatening as in the case
of Brandon, Corinne and dozens of other children who have taken their own lives
as a result of being habitually tormented and bullied.
Of course not all bullying leads to suicide, but its effects are certainly not without consequence. Bullying leaves emotional scars that can last a lifetime.
The good news is, however, this epidemic can be prevented and stopped through knowledge and action. By learning what bullying is, understanding the different
forms bullying can take, and being able to recognize the signs of bullying, you are
on your way to helping your child(ren) combat acts of bullying and violence.
Further to this, it is important that you are equipped with the right tools to help
your children gain the confidence they need to stand-up against bullying, and to
speak out when they see others being victimized – be sure to check out the values section (in professional resources) of this site for practical resources that will help your children be champions against bullying.
Finally, when all else fails, it is crucial that as parents and caregivers, you have a
few tools to bring out when intervention is required.