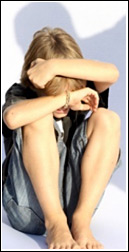 Children and youth who are being bullied, will often not reach out for help – at least not directly. There are a number of reasons for this silence, but regardless of the reason their silence means we as caring adults must be astute to the signs of a child who may be being bullied:
Comes home from school with torn, damaged, or missing clothing, books, and belongings.
Has unexplained bruises, injuries, cuts, and scratches.
Does not bring classmates or other peer's
home after school and seldom spends time
in the homes of classmates or peers.
Seems isolated from peers and may not have
a good friend to share time with.
Appears anxious, distressed, unhappy,
depressed or tearful when he or she comes home from school.
Appears to be fearful about attending school, walking to and from school, or riding the bus.
Has a poor appetite, headaches, and/or stomach pains (particularly in the morning).
Chooses a longer, "illogical" route for going to and from school.
Asks for or takes extra money from family (money that may go to a bully).
Shows unexpected mood shifts,
irritability, or sudden outbursts of
temper.

Has sleeping or eating problems.
May lose interest in school work and experience a decline in academic performance.
Talks about or attempts suicide.
If you suspect that your child may be being bullied, don't ignore it!
Check out the intervention section for tips on how to help your child through this difficult time.