What is a Parent Link Centre?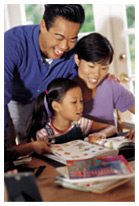 A Parent Link Centre provides parents and their children with supports to ensure that the children come to school ready to learn and ensure that parents have the supports needed to help their children develop and fulfill their potential. Parents will be able to access information about community services, obtain referrals, and meet other parents, children, and families, while taking part in quality early learning activities at a Parent Link Centre.
Every centre is uniquely designed to meet the needs of families living in each community.
All offer:
Parent education programs;
Programs for young children to learn and play;
Family support services such as nutrition programs, support groups, clothing exchange; and
Information and referrals to other parenting support and child development programs in your community.
To locate a centre close to your home or for more information visit http://www.parentlinkalberta.ca/ or call 310-0000 toll free in Alberta.
Or check out the following list.
Aboriginal Parent Link Centre
Phone: (403) 240-4642
19 Erinwoods Drive
Calgary, AB T2B 2W3
Awo Taan Healing Lodge Parent Link Centre
Phone: (403) 531-1880
#100, 1603-10 Avenue Southwest
Calgary, Alberta T3C 0J7
Website: http://www.awotaan.org/ 
Hand in Hand Parent Link Centre
Phone: (403) 293-5467
2623 – 56 Street NE
Calgary, AB T1Y 6E7
North Central Family Connections Parent Link Centre
Phone: (403) 275-6668
520-78 Avenue Northwest
Calgary, Alberta T2K 0S2
New Family Place Parent Link Centre Outreach
Phone:  (403) 266-6686
1410 – 1st St SW
Calgary, AB T2R 0V8
Parent Link Corridor – YWCA of Calgary
Serving residents in the downtown core
Phone: (403) 262-0497
Room 226, 320 – 5th Avenue Southeast
Calgary, AB T2G 0E5
Community Links Parent Link Centre – Airdrie
Phone: (403) 945-3900
211, 125 Main Street Northwest
Airdrie, AB T4B 0P7
Website:  http://www.nrvcl.ab.ca
Kidz 1st Network Parent Link Centre – Chestermere
Phone:  (403) 207-7090
Chestermere Town Hall
105 Marina Road
Chestermere, AB T1X 1V7
Website: http://www.chestermere.ca/
Western Rocky View Parent Link Centre – Cochrane
Phone: (403) 851-2250
209 – 2nd Avenue
Cochrane, AB T4C 2B9
Website:  http://www.cochrane.ca/
High River and District Parent Link Centre
Phone: (403) 652-8633
509 – 1st Street Southwest
High River, AB T1V 1Z5
Website:  http://www.highriver.ca